The word is integrated. Our full-service facility combines specialized services in pre-press, print, bindery, distribution and mailing. What does all this mean? Simply put, we save you time, money and administrative burden. Having these services instantly available allows us to quote each project with the appropriately required technology. It also means that we can oversee a project at every stage through its production, ensuring that quality and efficiency are maintained. This level of versatility enables Relay to provide superior products and services to a variety of industry sectors, including yours. Imagine all the services you need under one roof, and all with one goal in mind—the success of your project. When we say we're your start to finish solution, we mean it.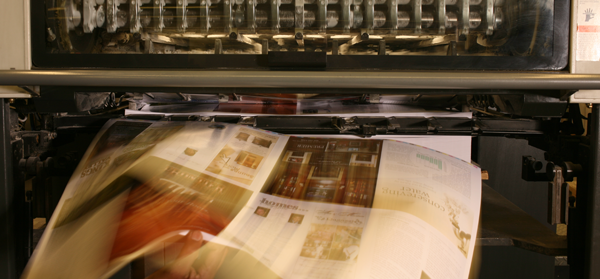 Printing
The key to efficient workflow is minimizing steps and maximizing communication. By layering communications from department to department and giving you access to each touch point in the process, we minimize the risk of error and expedite the flow of your job through the system. We always know where you job is at, so you will too. Using the latest technologies, equipment and software allows us to provide enhanced solutions to our customers. This also means our press operators will be able to concentrate more closely on the quality of the printing, rather than the operations of the press.
To achieve spectacular results in printing you must go far beyond the press. Regular training and upgrading of skills keeps our team well tuned and ready for anything that comes our way. Combine an experienced press operator with a quality press and you can make ink and imagery come to life.

Finishing
From front of shop to back of shop, we finish all work that comes through our doors. Folding, die-cutting, drilled and scoring – we handle all types of standard finishing. By providing our customers with complete finishing capabilities, we can ensure accuracy and efficiency from the moment your job comes in the door to the moment we deliver. Plus, we can help you save on costs by offering the complete process under one roof. If you have a unique or custom job, we will do your best to cater to your unique needs – just give us a call.